The Massage service is temporarily suspended during Covid-19
Pregnancy & Postnatal Massage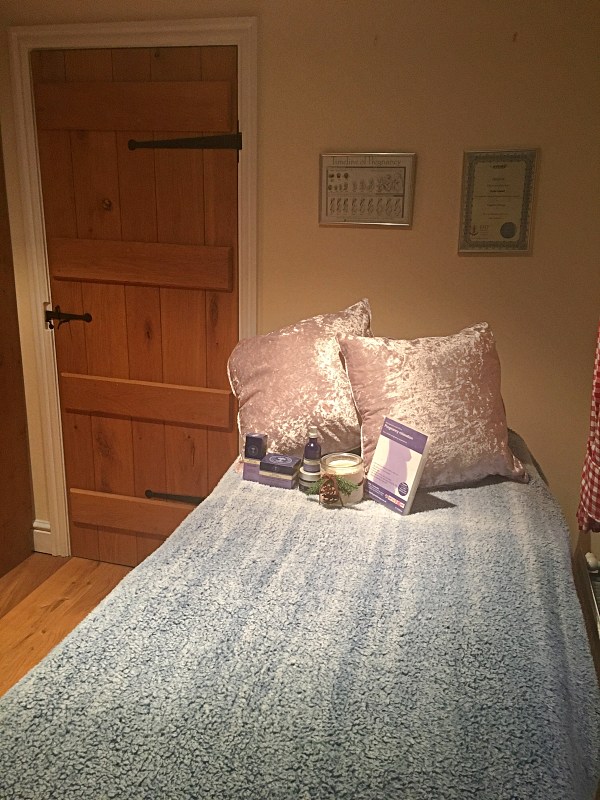 Massage therapy performed during pregnancy and postnatally can reduce anxiety & stress, relieve muscle aches and joint pains, improve circulation & reduce fluid build up.
 It can soothe & relieve many pregnancy symptoms, and also offers remedial treatment for conditions such as pelvic girdle pain. 
From Bumps 2 Babies offers Pregnancy & Postnatal massage in our treatment room in Sutton Coldfield. I have developed a luxurious and remedial pregnancy massage  using organic products from the wonderful Neals Yard range.
This fully immersive session involves massage, relaxation and a chance to ask me any questions about your pregnancy.
Following your pregnancy massage I will listen to baby's heartbeat with the sonicaid and I will take a recording for you as a keepsake. 
View our premium range of pregnancy & postnatal  massages to sooth, comfort and heal at all stages of your pregnancy and postnatal journey.
Pamper & Prepare Pregnancy Massage with Hypnobirthing
1 x 75 min session (from 12 weeks)
3 x 75 min sessions (from 12 weeks)
This fabulous treatment will completely re-centre your mind and body and help you to release fear and focus on confidence and excitement about baby's birth.
I will discuss any aches or pains and any specific pregnancy or birth concerns and then provide a deeply relaxing massage, whilst you listen to hypnobirthing affirmations and audio recordings. We will provide these as MP3 audios for relaxation at home. 
Acupressure massage  for post dates pregnancy
1 x 90 min sessions (from 40 weeks)
Induction of labour is now at epidemic proportions with up to 40% of women having their labour induced.
This relaxing full body acupressure massage stimulates shiatsu pressure points to help prepare your body for spontaneous labour.
Following the massage treatment we will then discuss what else can prepare your mind and body for labour and I provide a relaxing aromatherapy oil blend and relaxation soundtrack to take home.
I can  also provide advice about managing the induction discussion.
A stretch and sweep of the cervix can be provided if appropriate for an additional cost of £23
Recover and heal mummy massage
1 x 75 min sessions (from 6 weeks postnatal)
3 x 75 min sessions (from 6 weeks postnatal)
A postnatal massage is an important time for you to relax, heal and repair your body after the birth. During the session I will discuss your birth, and perform a gentle abdominal examination to check if a diastasis (gap in muscle) is present
If so, I will then advise you on next steps. I will also advise on nutrition, breathing and pelvic floor exercises and a follow up booklet on optimal postnatal health will also be provided.
Recover & heal Post Caesarean birth massage & scar release 
1 x 90 min sessions (from 6 weeks postnatal)
3 x 90 min sessions (from 6 weeks postnatal)
All the benefits of our Postnatal massage treatment, plus I will perform an abdominal massage using specialist massage techniques to release tension in the c-section scar tissue. I will also explain how you can use massage yourself to promote healing and appearance of the scar area. We use organic massage products and offer treatments at our Sutton Coldfield treatment room. A comprehensive c-section recovery information booklet is sent to you after the treatment.
Oh my word. This afternoon I had the most wonderful pregnancy massage with Frombumps2babies. I genuinely didn't realise how tense I was! I felt very pampered and came away feeling so much more relaxed. I also felt a bit more prepared for the birth of my babies (yes, they are twins!) I would 100% recommend Frombumps2babies!
At 37 weeks pregnant I was looking for a hypnobirthing class near me. After reading the great reviews for FromBumps2babies me and my fiancé went to Linda's class. Linda was so welcoming and genuinely lovely. She gave me all the tools I needed to prepare myself for my impending birth and to let go of the fear I had built up from my first birth.At 41weeks I went back to Linda for a acupressure massage. She helped to relieve my anxiety about being overdue and to relax. I would definitely recommend Linda, I wish I had found her sooner!
Cannot recommend Linda and her services highly enough! Initially, visited Linda for pregnancy massage. Her wealth of knowledge has helped me to have a clear understanding of both my body and our babies entrance into the world. Although we are still waiting for our bundle to join us, I'm not sure what state I would be in this evening, sitting at 42wks, without Linda's kind support, care and time. We are putting all of her advice into action and are hoping for our good news story very soon.
Don't just accept what you are told about pregnancy and birth, research and ask questions. For anyone that wants a positive pregnancy and birthing experience Linda is the lady for you. Amazing. Thank you from the bottom of our hearts.
So this evening I had a wonderful pregnancy massage from the fabulous Linda Lilwall. What an incredible woman she is! I felt incredibly relaxed and loved by her throughout. Any pregnant ladies get yourself to Linda for some pampering. Not forgetting to mention baby who also loved the whole experience and kicked me throughout!! Love you Linda
–
I just got back from my first Pregnancy Massage with Linda, and it was incredible! She makes you feel so at ease and comfortable and makes sure you have everything you need to be comfortable and relaxed including a lovely Hypnobirthing track to listen to. Every part of me is well and truly relaxed and pampered and I can't wait for my next one! If your thinking about Pregnancy massage or need any advice, Linda is the one to go to.
Not sure which service is best for you? Contact me today to see how I can help
Midwife@frombumps2babies.co.uk
Orchard Close, Sutton Coldfield, B73 5RF