First time mum Kimberley shares how her baby decided to make an early arrival at 36 weeks. The hypnobirthing toolkit that she had gathered on the Online Birth Preparation Course helped during the early stages, but as the pain increased she used her "Power as a Mother" to say no to Pethidine. Over to Kimberley for her positive birth story.
Having felt off colour and exhausted for a couple of days, I was waking up from a 3 hour long nap on Sunday afternoon when I felt my waters break at 3pm. They were bloody and I was only 36 weeks so I shouted down to my husband and we rang the hospital.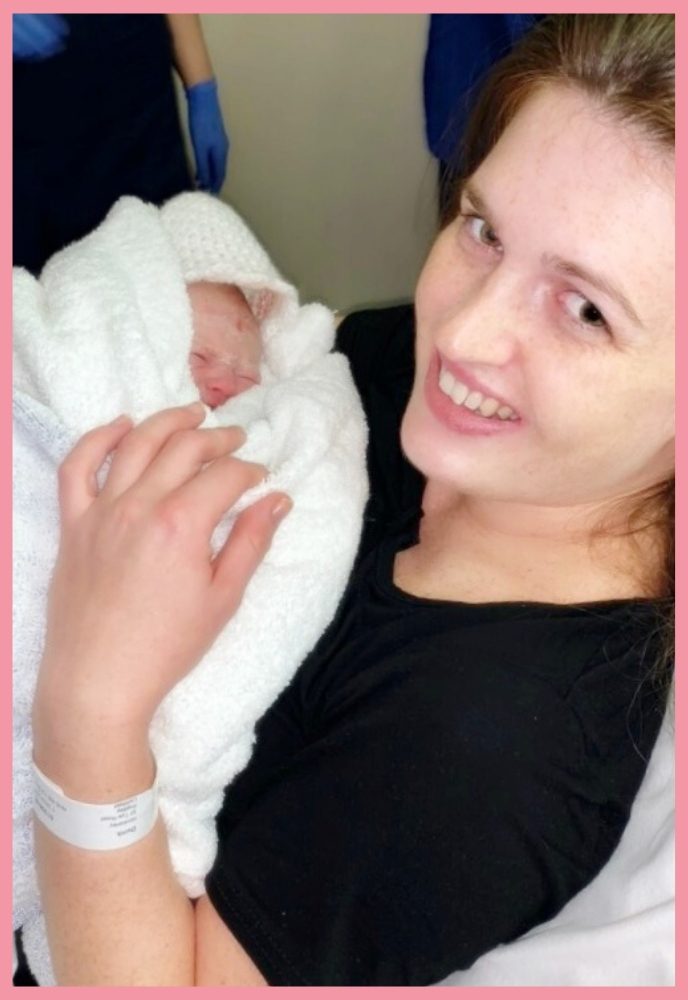 Hypnobirthing on a quiet Sunday afternoon
They asked us to go up to the hospital to be checked. So we gather all the bags and last minute things and I used the hypnobirthing techniques to stay calm and rational. The whole journey there I wanted to turn around and go back to bed – it was too soon!
Once we got to the assessment unit a lovely student midwife ran the tests with us and checked baby's movements and heart rate. We could see I was already having contractions although I couldn't feel them. I kept using the hypnobirthing to stay calm as we were told that I would need to stay in hospital. I was given antibiotics and my husband went to meet my mum and get our things from the car. In the 10 minutes he was gone, things began to get more intense. The contractions really kicked in and I was breathing through them but it felt like they were coming in twos – like a double peak. I tried to remember what I'd learnt – to keep up right and moving.
At 5pm the midwives came back to check me and I was 1cm dilated. Although I was continuing with the hypnobirthing, breathing techniques and moving around, I was beginning to get quite uncomfortable. I was really feeling this in my back and the discomfort was beginning to increase. So we ran the bath and I got in for 5 minutes with my mum and husband supporting me. The contractions were intense now and I was really sick!
After the bath I just couldn't get out the bathroom for being so sick and my mum helped me on to the bed where I was kneeling. The contractions seemed to be about 2 minutes apart, still with the double peak feeling. I was now feeling no relief between the contractions and was struggling to focus on hypnobirthing although my mum was doing her best to help me with this.
My Birth, my choice
The midwife came back at 7pm and offered me pethidine as they said this was a first baby the initial stage of labour could take a long time. I was really hesitant – pethidine was not part of my plan and I wanted the gas and air. But another thing I'd learnt from the course was that plans are preferences and births don't typically go to plan. So I asked to be checked before taking it. Actually, I was 4cm dilated and could move down to the labour ward. So we packed up and I got into the wheel chair with some help to go down. It felt like 5 minutes but was probably half an hour. The contractions were intensifying and I just wanted to stand up and push. But we were in the lift and I knew I wasn't dilated enough.
We got down to the labour ward and in the room. The midwife checked me again and I was now 7cm dilated. Honestly by now the hypnobirthing was out the window and I was struggling to concentrate. I felt I was outside my body and needed a lot of guidance to breathe.
I finally got the gas and air and it was like a miracle. The relief was amazing and I felt able to concentrate and breath a bit better again. My mum stepped out for a break at this point. The contractions were in my back and to be checked I had to be on my back and it was so frustrating. The midwife checked us over and the baby's heart rate was high. So she pressed the emergency button and in came the team of about 6 people. While they seemed quite calm, I could see the worry in my husbands face and the look on my mums face when she came back in!! To settle the baby's heart rate, they put a cannula with fluids in to my hand to rehydrate me. I felt better quite quickly in this sense but the labour was still intense and all in my back.
The final moments
The midwife and doctor had a quick bicker about preparing me for a c section. They decided the best thing to do was to get ready for a c section but if I could do it without in the meantime that would be better. So they asked my husband to scrub up! Meanwhile, every time I contracted the baby's heart rate was dropping and was beginning to stay low – one extreme to the other!!
I was now 8cm dilated and they could see her head. They clipped a monitor on to her head and asked me to say when I was ready to push because they needed this baby to come now – there was no time for a c section.
So I began to push on the contractions – 4 pushes at a time. But I couldn't get a big enough breath using the gas and air so stopped using that. It was intense and I was scared more than anything. Eventually the head was out and a couple more pushes and Matilda Rose was born at 23:30 weighing 2.4kg with guidance from the ventouse. The cord was wrapped round her neck which had caused her heart rate to drop. So she was whisked off to the corner of the room to be checked while I was stitched up. This felt like it took forever! But finally she was on my chest and we began to attempt breastfeeding.
Looking back, it's a bit of a blur and while the Labour was intense and it did hurt. It was the fear and the hospital machinery that I found worse. I think the course and hypnobirthing helped me immensely – I understood the process of labour, possibility of complications and need to deviate from the plan. This enabled my to open my mind and not worry about these things – I could focus on myself and my baby!