This positive birth story is one where the events could have lead to anything but a positive story. However thanks to Emma's preparation through Hypnobirthing and preparing her Birth Preferences, she welcomed her beautiful baby and now shares her positive experience of a c-section after induction.
My birth deviated from my original preference however it still encompassed key aspects that we wanted which was very empowering.
The power of my birth proposal
I can't express how important my proposal was, it made things so much easier when things deviated from plan A, kept all the elements of birth that were important to me as much as possible and applied them to the scenarios I found myself in.
I was informed the whole way through by a fab midwife who was a real advocate for what I wanted. From induction through to recovery my birth preferences were read by the midwives and surgeons. Several of them commented on how useful this document was. Going through several days of induction on my own without being able to have my husband there meant lots of decisions were already made and had been discussed together previously which reduced stress for me. I even managed some time in the pool for my induced large baby which was so important to my experience. Having a clear outline of my preferences enabled me to have an element of hypnobirthing during my emergency C-Section which kept me calm throughout the procedure as well as getting me to this point on very little pain relief.
The From Bumps to Babies Birth Preferences template gave us ideas which we put into our preferences for a c section which we would never have thought of. After having the section I realised these were so valuable and important to my experience
The theatre team to be positioned at my head apart from midwife when catheter inserted,
drapes dropped for us to see our baby,
silence so our voices were first baby heard,
music of our choice played (we chose hypnobirthing river dawn),
monitoring wires on my back to enable skin to skin
we determined gender instead of this being announced.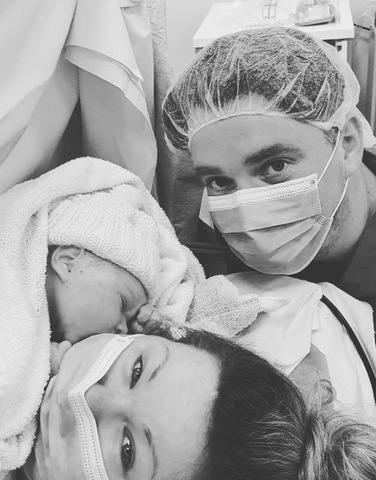 The theatre team were also very respectful of the fact I didn't want to know anything about what was going on the other side of the curtain and used subtle terms for things which meant the focus in my mind could be on welcoming our baby boy. I was also given a private side room for my post natal care and was told this was as I had requested it on my plan. This was welcomed after such a long induction and labour and I wouldn't have been in a frame of mind to think of asking for this at the time.
Deviation from the "plan".
My birth experience deviated several times at many stages due to measuring for a larger baby at my 20 week scan. When my baby was measuring large I was put under consultant care and eventually I was induced. I had felt informed and empowered to say no to induction until past 40 weeks. I then chose to be induced at 40 and 3 after guidance and my own research. I had discussions with the consultant about my birth preferences as I had planned to have a water birth. When booking in my induction I had it agreed that some time in the pool for pain relief would be okay unless there were any issues. At induction I was induced with two pessaries before I was taken to delivery suite for my waters to be broken. My husband was allowed in at this point and we were told we would be given the 4 hours of peace for me to dilate as per my birth preferences.
When we discovered I was 3cms after this point doctors discussed me going onto the drip, when I asked for an alternative option the midwife said that as I had made some progress she felt I could go in the pool for some time to see how I got on. She had clearly read my birth preferences and stood up for me on this. After some time in the pool I had not dilated any further and I chose to have the section rather than have the drip. It was now several days since I was induced and I felt I didn't have any energy left to the point where I could push. The doctor came in an attempt to press for a vaginal delivery after I had made my decision. The midwife was such an advocate for what I wanted she stopped the doctor and told them I had already made my decision and that this was an informed one.
When we deviated from a vaginal delivery to a c section we managed to keep this positive by encompassing as many elements of the original plan. In the end our c-section after induction was a positive and magical experience.

Power of hypnobirthing
The Hypnobirthing enabled me to avoid any hard pain relief and to feel empowered and calm. The information and knowledge I had gathered through the Online Birth Course meant I felt informed to make the right decisions for me and my baby as well as understanding the repercussions of these decisions.

I learnt that it's important to research your choices as you always have one. Don't be pressured into a decision your not happy with or feel informed on. I learned so much Linda at From Bumps 2 Babies and this knowledge enabled me to challenge when needed.
It's also important to practice hypnobirthing. I have never felt so in control. I feel I will use these skills and techniques for life to enable me to feel calm and cope with difficult experiences.
My top tip is to invest In a tens machine, I couldn't have coped with such a long labour without it!

C-Section after induction
I can't change the things that didn't go according to plan. Yes In hindsight I could say I could have avoided all of the pain of induction and opted for a planned section, but then I would always have thought what if? I got to experience labour and the birthing pool and I will always know I did all I could to have the birth I wanted and that we welcomed our beautiful baby boy into the world in the safest possible way at the time.