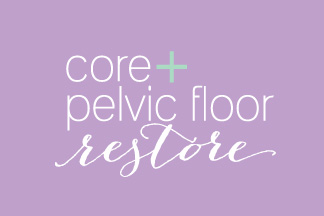 ---
Every woman at every life stage, be it during pregnancy, the early post natal period or later in life, needs to be empowered so they can improve their pelvic floor heath, core strength and wellbeing. Holistic Core Restore® programme was created by Jenny Burrell of Burrell Education to help education and support women to ensure that suffering in silence about their pelvic floor function/weak core muscles becomes a thing of the past.  Jayne Hume has been trained by Jenny and is one of a small number of licensed ambassadors able to offer this unique training programme. The programme is suitable for all women through all life stages. 
Holistic Core Restore® Programme
Proudly presenting 9 unique, dedicated-to-Women's-Wellness programmes guaranteed to make your journey through all the female life-phases smoother.  From Pregnancy fitness to Birth Preparation, Post Natal recovery and Pelvic-Floor-Friendly Fat Loss Fitness, to Nutrition that will help you heal and balance your hormones all the way through to the returning athlete and the Peri to Post Menopause years…….something for EVERY WOMAN who cares about her Core, Pelvic and global health client.
---
Support for the new mom are in a critical state the world over and as a fitness and wellness professional you are often at the coal-face and the first person to whom the client seeks help after being signed off by her HCP.  This programme will give you the skills to advise the client of appropriate 'core-reconnection', safe lifting, breath work and nutrition strategies before their 6-8 week clearance and then give you EVERYTHING you need to start the client on their return to activity with the deepest respect to her incredible recent journey.  Safe, progressed, workouts, nutrition and lifestyle programming that supports and guides the new mom back to health.
Every Woman is our foundation 6 week programme that EVERY WOMAN should do at least once in her lifetime!   A weekly meeting over 6 weeks to commune with other women dedicated to supporting their Pelvic Health and general well-being through intuitive movement and nutrition.  This isn't your average Pelvic Floor exercise class, we move the whole body in order to speak to the Pelvic Floor.  We bring it home to it's rightful place within the entire body and this programme will teach women the deep value of rest, movement, community and nourishment not just for the length of the programme, but for life.  Delivered in a serene environment full of good smells, great music and healing vibes.  It's been a winner for 3 years and helped transform the lives of thousands of women.
Healing a Diastasis is a WHOLE BODY ISSUE, it's not just about exercise and it's not just about the woman's belly and it's not just about the gap!  Helping women recovery and heal well requires an integrated approach and a deep education that enables you to think both critically and laterally.  If ever there was a time when bespoke programming was essential.  This is it!  But, you'll be given all the tools, strategies and support to coach your clients to success.  The HCR Diastasis programme follows the Burrell Method for Holistic Diastasis Healing and GET'S RESULTS!  This programme provides you with the skills to delivery an offering that is a mixture of soft tissue therapies, movement and deep nutrition protocols.
Who's truly serving the C-Section woman?  It's arguable the most traumatic way to birth in terms of your recovery and yet get's very little special attention.  Recovery from C-Section is challenging for many women and a separate protocol is required to ensure that their recovery is truly an inside out affair.  From scar-tissue and adhesions causing local and distal pain to Pelvic Floor dysfunction and bowel obstruction, the fallout post C-Section can be very real.  This programming truly helps the fitness and wellness professional understand WHAT HAPPENED and why the client is having issues in the Post Natal period.  This programme provides you with the skills to delivery an offering that is a mixture of soft tissue therapies, movement and deep nutrition protocols.
What goes up must come down!  For so many of us, fitness = strength but in reality fitness = strength, mobility, flexibility and the ability to move between tension and relaxation with ease.  The same goes for the Pelvic Floor, the entire core and indeed our whole body.  There has to be an easy flow between all states and 'problems' usually arise when that flow is lost.  HCR Release will provide you with the tools to either create a standalone offering/class focusses on small kit re-alignment strategies, breath work, mindful meditation, mobilisations and Pelvic Floor down-training.  It's an essential part of the puzzle that's often neglected but as a HCRC, you'll have access to the most cutting edge strategies to truly complete the circle of care for your female clients…. never underestimate the power of a good lie down! THIS your clients will adore.
So….what do you do when your clients have re-connected to their core and need now to progress to moving in a dynamic fashion that actually looks like real life?  In the world of fitness, professionals have often found it challenging to programme exercise for fat loss that is also 'Pelvic Floor Friendly'.  In this programme HCR Heat, we've nailed it!  It's a 'no-jump' workout that truly will hit all the fat loss (EPOC) markers and jump start your client's metabolism.  It's the perfect follow-on programme and again, will keep your client within your business, progressing, happy and safe for some time.
Another 'new kid on the block' is HCR Heavy!  So many of our clients want to eventually get back to their 'weekend warrioress' and 'athlete' status….not all of them but for sure our programming needs to encompass those who want to run fast, jump high and lift heavy things.  In HCR Heavy, we start re-introducing the client to Kettlebells, Barbells, Sandbags, Suspension Training, Dumbbells and bodyweight exercises all with a  deep emphasis on respectful lifting and core-consciousness.  We get women back to their personal bests SAFELY.  Again, the emphasis is on gradual progression and lifting what you SHOULD be lifting not necessarily what you CAN lift.  With the confusion and frenzy currently surrounding women lifting heavy, this component of the HCRC package should help you to help your clients return to the sports they love supported by a deep education and respect for their post birth bodies.