This beautiful surrogate birth story told by a surrogate mother, details how amazing relationships have been formed, and how a global pandemic could have taken away the shine of such a beautiful event. Instead, changes were made to make sure that the birth was still as beautiful as it should be.
A special surrogate birth story
On the 1st June 2020 at 14:14, Beatrix entered the world and was delivered by her mummy Jo. I was a surrogate for our amazing friends Jo and Paul who we met through Surrogacy UK.
Before the whole country went into lockdown we had planned on me giving birth at the Samuel Johnson Maternity Unit in Lichfield. I had my daughter there and I loved the environment. I hadn't considered a homebirth as I thought it would be too difficult with our children at home.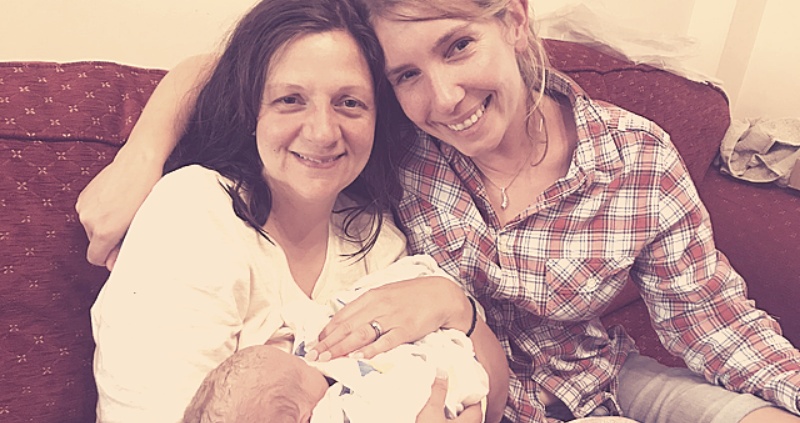 Limited in lockdown
Once the country went into lockdown, we knew our options were limited. The maternity unit closed and homebirths were cancelled. I really didn't want to go into hospital purely because Jo and Paul wouldn't be able to be present for the birth of their daughter and possibly even afterwards. We spoke to Linda regarding a private homebirth and knew as soon as we spoke to her, we knew we had made the right decision. From 36 weeks when my care started, Linda was utterly fantastic. Jo and Paul arrived at their accommodation on Thursday 21st May in preparation for the arrival of their daughter. Even though she wasn't due until the 27th May, we were hopeful she wouldn't keep us waiting.
Waiting for the baby to arrive
On the 31st May, I didn't feel very well and wondered if something might be happening. My husband Alex called Linda and she came over. She checked me and said I was 3cm but in latent labour. She gave me a lovely massage and reassured me things would happen soon. Linda went home but told me to call her if anything happened. I continued to have some surges during the night but they were not painful and they were every hour or so. I woke up on the 1st June very disappointed that everything had disappeared.
I called Linda in the morning and she came over at 10am. She offered me a sweep and I decided to take it as I felt sure something was happening. She said my cervix had definitely softened and to try a walk. She left at 10.30am and Alex and I decided to go for a walk around our lane. I kept having tightening's and had to stop a few times. We got home and by 11.30am I was having contractions every 5 minutes. They weren't too painful and I was able to breathe through them. By 12.30pm they were coming every 3 minutes and I now had the TENS machine on.
We called Linda and she arrived at 12:40pm, very handy that she lives so close to us! She said I was 5cm dilated but we both felt sure that things were going to happen quickly. At 1pm the TENS machine was being used on a higher setting but I was still coping ok.
Into the pool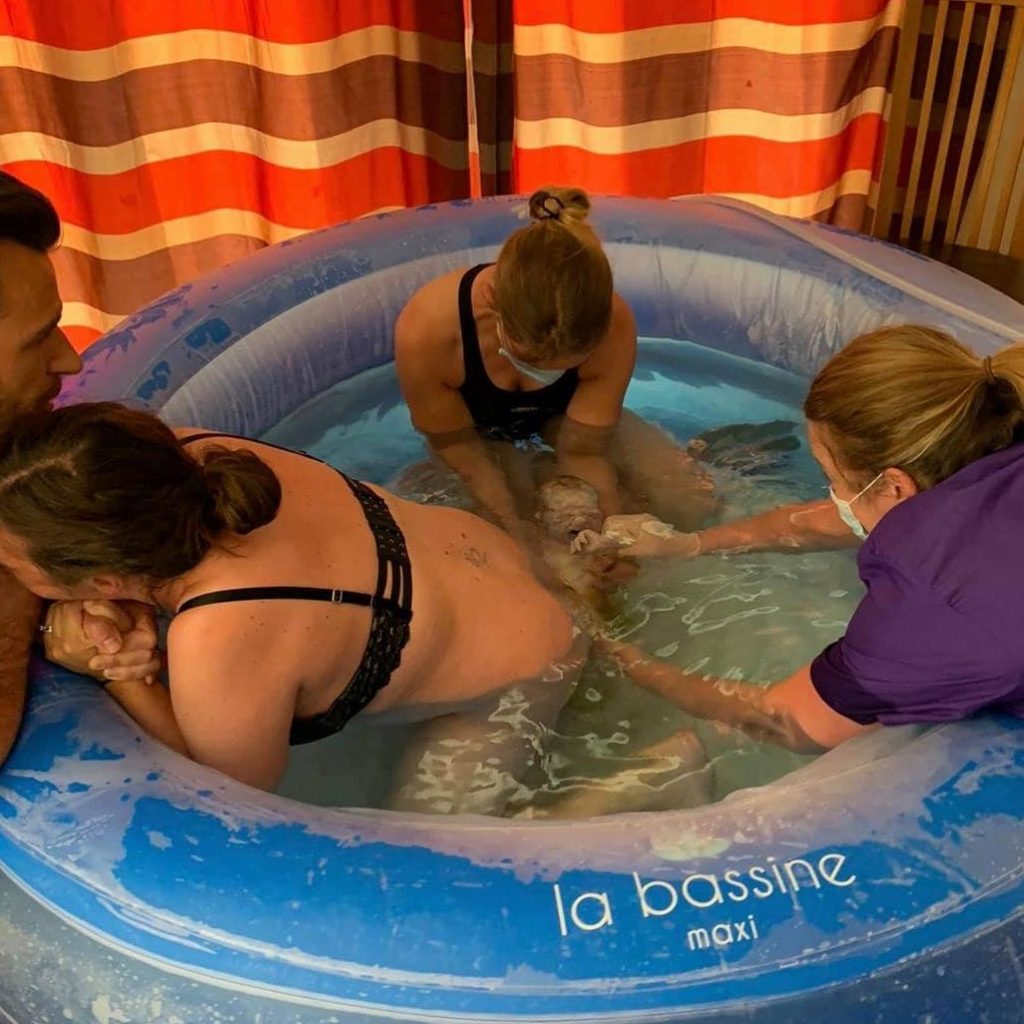 At 1.20pm I got into the pool and it was such a relief. I felt the baby had dropped and there was lots of pressure. Linda told Alex we needed to call Jo and Paul and they arrived at 1:40pm. By now the contractions were really intense and poor Alex's hands were being squished! Linda was so calm and reassuring and checked in on baby and I without me even realising she was there. At 2pm the feeling of needing to push took over me.
In this together
Jo got into the pool behind me. With only a few pushes and lots of panting, Linda told me that Beatrix's head was out. Her head was born so slowly and I felt totally in control based on the amazing care I was getting from Linda. Alex was being my amazing birth partner and I couldn't have felt more focused. With my next contraction, Linda told Jo to get ready to catch her daughter and as I pushed, Jo brought Beatrix to the surface for her first cuddle.
We stayed in the water until the cord stopped pulsing and then Paul cut the cord. I had been really worried about bleeding so had decided to ask for the injection to deliver the placenta . I got out of the pool and the placenta came away so easily. I then laid back and watched our friends with their daughter. The whole experience was exactly what we wanted, we were all together, it was calm and peaceful and by far one of the best days of my life.
Special surrogate mentions
Surrogate partners are not always mentioned or given the recognition they deserve in a surrogate birth story. Alex was right there every step of the way, supporting me and telling me I could do this. Covid 19 could have taken away this special day from us but because of Linda giving me the confidence, we had the most amazing homebirth. I honestly can't thank her enough.