Birth Preparation Classes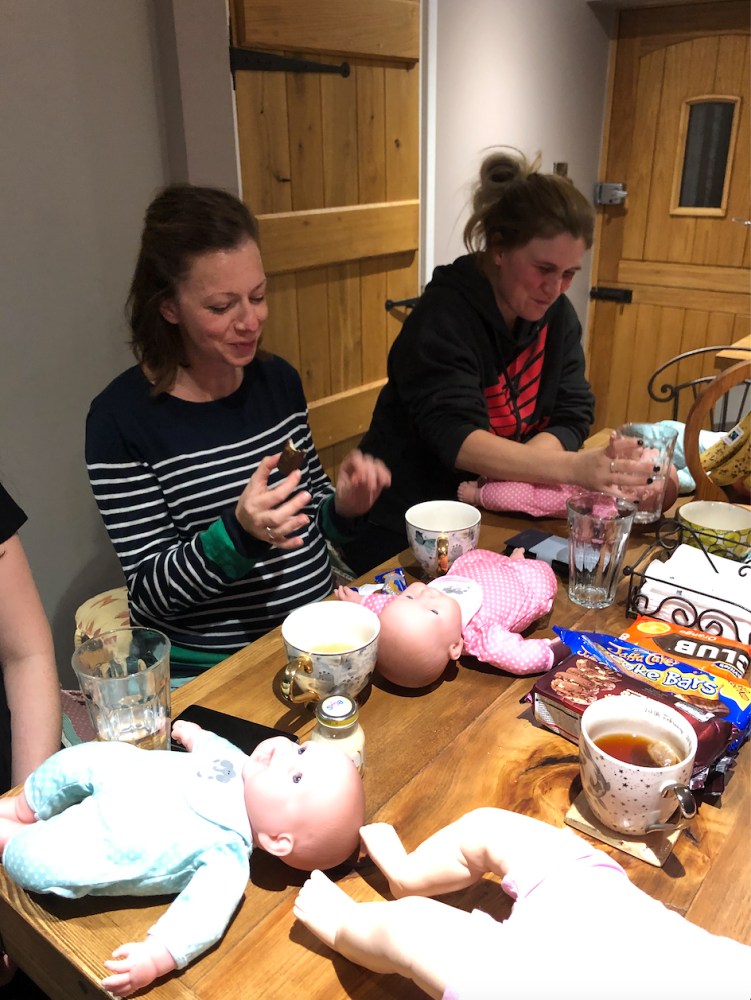 Which birth classes should you attend?
You may be unsure particularly if it's your first baby, however we've got your back.        
You may work long hours or shifts or find that the NHS classes offered are either full, unavailable or not at a convenient time.    
 Google or online chat forums often do not provide qualified information and this is where women often get alarming and incorrect information that can create or compound  fears.  
Our in person and online classes are fully focused on the Power of your Mind through hypnobirthing , the Power of your Body through learning about the mechanics of birth and your Power as a Woman in making sure that you are the one making decisions about your body your baby and your birth , through a clear understanding of all your choices and options.      
Our classes cater to smaller groups with a maximum of 5-6 couples    
No need to cherry pick birth preparation sessions from various providers as we cover everything all under one roof.   Our full antenatal, hypnobirthing and postnatal care courses has been designed to show you all the in's and out's of labour and birth and we also equip you with a decision making tool to use if your pregnancy deviates from the usual pathway and you want to protect yourself from unnecessary intervention. We also sign post to other health professionals if needed and we have a huge library of resources to support you with. In addition we also delve deep into your baby's needs in the early weeks after birth and we explore new parenting skills, as well as first aid.  
We have been running these sessions for over 10 years and have helped hundreds and hundreds of couples to achieve a really positive birth experience. 
Get INFORMED, get EXPERT ADVICE, come and join us in person or online and let us guide you to a calm confident and beautiful birth.
Hypnobirth mindset preparation for labour and birth. 
1 x 120 min session (from 29 weeks)
If you can only afford one class then this signature course has to be the priority.
Mindset is EVERYTHING when it comes to releasing fear and developing calm confidence and excitement about baby's birth.
Hypnobirthing has been proven to give shorter less uncomfortable labours with less intervention and less need for instrumental birth.
Practical hints and tips for labour and birth
1 x 150 min session (from 29 weeks)
 Covering all your physical preparation for birth, and discussing what labour really feels like. The 14 phases and 3 stages of labour , comfort measures and, the role of your birth partner.
Infant feeding and newborn baby care
1 x 150 min session (from 29 weeks)
This essential session prepares you fully for initiation of breast feeding and the early days with baby. We then cover formula feeding preparation of feeds and sterilisation of equipment. The session concludes with newborn baby care sleeping, crying, topping and tailing travel, temperature control and safe sleeping , getting you comprehensively prepared for handling your beautiful newborn.
Infant First aid and resuscitation
1 x 120 min session (from 29 weeks)
This essential and hugely popular 2 hour programme can be taken pre or postnatally with your partner and/ or grandparents. The cost is for 2 people
Led by midwife Linda, we commence with the features of a thriving infant then demonstrating essential skills and knowledge to recognise when they become unwell and how to deal with common newborn infant first aid emergencies :
The unwell infant, a choking infant, an infant who stops breathing (CPR), Burns, Fever, Febrile Convulsions, Meningitis
Complete birth preparation programme
All 4 sessions (  9 hours total  – from 29 weeks)
Save 20% by booking the complete course of all the 4 sessions
– Hypnobirth mindset preparation for labour and birth
– Practical hints and tips for labour and birth
– Infant feeding and newborn baby care
– Infant First aid and resuscitation
Linda's positive and informative approach makes you look forward to the whole process. Linda has a wealth of knowledge and can honestly answer any questions you may have. She's been a midwife for over 20 years and travelled around the country and worked in many hospitals so she's really seen it all. I never knew I had the choice to say no to an induction.
Not only have I gained a wealth of information from Linda's private class but I have also found her Facebook videos to be very useful! If you are a first time mom or maybe even a second time mom and you want a different experience… Ladies I can't recommend her online classes and private classes enough! Life-changing!
Thank you Linda for giving me the confidence, information and empowering women in realising we have the right to the birth we want!
My husband and I attended two classes with Linda, feeding and infant care and infant first aid. Both classes were informative, relaxed and extremely beneficial. From talking to others we received so much more information compared to other antenatal classes there are. What we particularly liked about Linda – she wasn't forceful with her views, she simply gave all the information so we could make informed choices for us and our baby.
She continued to offer support even if it was just answering another random question we had. We always felt assured we were getting great advice and guidance with Linda's expertise and years of experience in midwifery. Every penny was worth it!
I contacted Linda after looking for support during pregnancy. I felt the other options weren't for me, and wanted honest and practical advice.
We attended both of the courses and I left feeling informed, relaxed (as you can be) and provided me with facts/tips that were very helpful. Linda is a midwife who is up to date, very honest and tells you as it is. In a good way!
We learnt more in 3hrs than some of my friends learnt in 3 days with other classes.
Following the course I had a massage, which was amazing but also gave me 121 time with Linda to ask questions and chat through my worries. Thank you Linda you are wonderful x
Absolutely amazing! Myself and my partner were so stressed as it's our first child, but Linda has given us so much confidence that we really feel ready and are actually looking forward to everything to come. Amazing depth of knowledge from Linda and a really personable and relatable approach to Antenatal education. Can't recommend fromb2b enough! Thank you so much x
Contact me today to get prepared for your birth
Orchard Close, Sutton Coldfield, B73 5RF
Midwife@frombumps2babies.co.uk