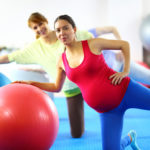 Light to moderate exercise can become an important part of helping you feel your best during pregnancy, preparing
your body for labour and recovering after the birth. Studies have shown that in most cases exercise during pregnancy is safe for both mother and baby when done correctly.
Do not worry if you were not very active before your pregnancy as the aim of pregnancy exercise is not to achieve peak fitness just to maintain fitness levels and a healthy weight gain.
Benefits of staying active in pregnancy:
For mum:
Prevents excessive weight gain
Makes you feel good, sleep better and have more energy
Develops stronger muscles to help you in labour
Contributes to less swelling and less chance of developing varicose veins
Development of fewer aches and pains associated with backache, leg cramps and joint stiffness.
Reduces the risk of gestational (pregnancy) diabetes and high blood pressure
Speedier recovery following the birth
For baby:
Babies born to exercising mothers have been found to be leaner and stronger and are less likely to develop diabetes and obesity in later life.
They are better able to cope with the stress of labour in particular if there is unanticipated maternal stress.
Studies have even shown that babies born to active mothers can be smarter and more content!
Your Concerns
Mothers to be and especially first time mums are concerned that exercise may harm their growing baby but studies have shown that exercise does not increase the risk of miscarriage, congenital (birth) defects or premature (early) labour, providing that you have been taught appropriate exercises by a qualified exercise professional and have no medical reasons identified by a health professional that would prevent you from exercising. It is important to listen to your body and always consult your midwife, doctor or obstetrician before commencing an exercise programme in pregnancy
 Dos and Don'ts
Each stage of your pregnancy presents very different bodily changes and challenges – it is important that an exercise programme reflects these changes to ensure that you and your baby are kept safe and healthy.
Do:
Always consult your midwife, GP or consultant about your suitability to exercise as there are some conditions or circumstances during pregnancy that would mean exercise should not be undertaken.
Wear loose clothing, a good support bra, drink plenty of water and eat a healthy and varied diet.
Do  a warm up and cool down for at least 10 minutes
Do gentle stretches at the end of an activity for 10 to 20 seconds.
Avoid exercising when it is hot and avoid saunas and steam rooms
Listen to your body and rest when tired. You should still be able to hold a conversation and not be short of breath, whilst exercising.
Check your instructor is qualified to instruct pregnant women and advise them of any changes in your pregnancy and concerns you may have.
Don't:
Ignore warning signs including bleeding, dizziness, severe pain
Overstretch your joints as they are looser during pregnancy and you may cause injury.
Exercise on your back after 16 weeks.
Perform an exercise where you may lose your balance.
Exercise if you feel unwell or overtired.
Participate in contact sports, horse riding, cycling or scuba diving.
Hold your breath when exercising
Warning signs when you may be exercising too hard
Not able to hold a conversation
Your heart seems to pound or beat irregularly
Shortness of breath
Dizziness, feeling faint or unwell
Muscle cramps
When to stop exercising immediately and seek medical advice
Vaginal bleeding
Pain in abdomen, back or pubic area
Chest pain
Excessive shortness of breath
Severe headache or nausea
Pain or swelling in legs
Contractions
Leaking of amniotic fluid (waters)
 Tips for each trimester (stage of pregnancy)
First trimester (0 to 12 weeks)
Avoid exercise when nauseous or very tired
Reduce intensity of exercise you were previously doing or stop if not recommended for pregnancy.
Do not over stretch as ligaments and joints are more relaxed due to the hormones of pregnancy
Second Trimester (13 to 27 weeks)
Avoid all sit ups and rotation exercises
Get fitted for a new sports bra
Avoid lying on your back from 16 weeks
Third Trimester (28 to 42 weeks)
Reduce levels of intensity further.
Be more aware of your balance as your bump gets bigger
Ensure you get enough rest and eat well to provide sufficient calories and nutrients for you and your growing baby
What can you do and how often?
It is vital to find the right intensity of exercise for you and to work within your own ability, fitness levels and with the advice of your midwife, doctor or consultant. If you were competent at a particular activity before you were pregnant and there are no reasons why it would harm you and your baby then it is likely to be safe to continue but with pregnancy  adaptations.
If you are new to exercising take it slowly and build up gradually to a level where you feel comfortable.
Aim for 30 minutes of exercise 5 times a week.
If new to exercising start with 15 minutes 3 times a week and increase to 30 minutes gradually over a 4 week period.
Suitable exercises
Brisk Walking
Swimming
Pregnancy exercise classes
Aqua natal classes for pregnancy
Antenatal yoga
Pilates for pregnancy
Low impact aerobic classes
Static exercise bike
Gym work  – treadmill and cross trainers (only if used before pregnant and at lower intensity)
Using Weights (with pregnancy adaptations)
For details on our Pregnancy classes  – http://www.frombumps2babies.co.uk/services/birthfit/